Apps for the Pebble Watch
The Pebble Watch is a great companion to your iPhone or Android. I hope you find these apps for the Pebble useful. Search for them by name in the Pebble App Store. Feedback is welcome. Just follow the Contact Me link on the right.

The My Bus Series:
My Bus, My MTA, My WMATA, My SF Bay Transit, My Vancouver

Do you commute to work in one of the nearly 60 transit districts that work with the NextBus prediction service? My Bus is the easiest way to keep track of when the next bus will arrive at your stop. And here's good news for our friends in New York City, Washington DC, San Francisco and Vancouver BC. You now have your own app using the same easy setup and views that we introduce with My Bus 2.0. Use one of the My Bus links on your right for specific instructions.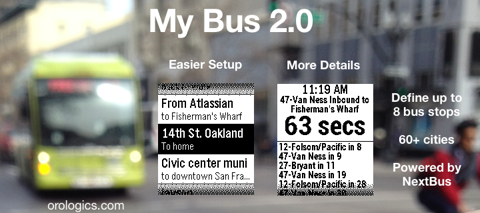 "Thank you for your work. I use your app every day." - Ducky / Pebble Forums.
"Whenever I'm talking to a smatwatch skeptic, I use your app as an example of how the watch would fit into their life." -Pete in Washington DC.
"Thanks for making such a wonderful and useful app." - Winston in Vancouver
"Scroll down for full details. LA Metro works perfectly." - Jayson in Los Angeles

Food Trucks

When you glance at your watch and notice that you've almost worked through your entire lunch time, you've gotta grab a quick bite from somewhere. Food trucks these days provide more variety than ever before. No need to pull out your phone when you can almost instantly see which food trucks are currently open for business and where they are located right there on your Pebble. Version 1.1 shows schedules in 13 US and Canadian cities. Food truck owners and food truck fans, do you want this service in your area? Please fill out this form: Street Food App: Add City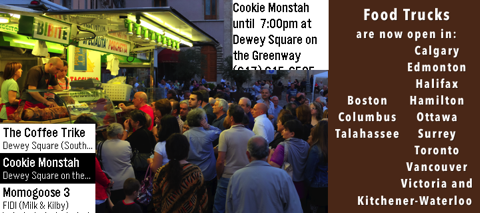 SFO Food Trucks

Access the City of San Francisco's food vendor permit database directly from your watch. Use this app to find where your favorite San Francisco mobile food vendors are currently open for business.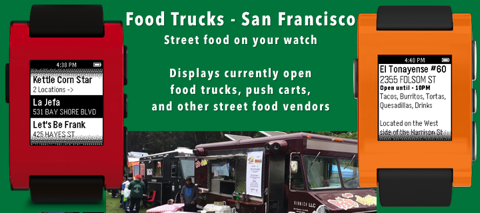 Watchfaces+

The latest Pebble OS limits you to loading only 8 watch apps and watch faces. To satisfy your need for variety, I have curated some of the best looking watch faces into a single watch app (not a watch face) that's really easy to use. There are 24 watch faces to switch to, which is why I call it Watchfaces+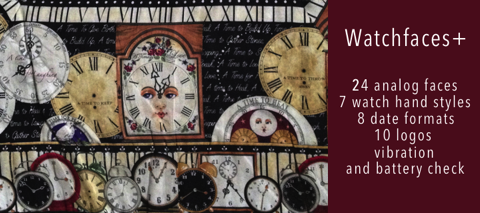 Click on the Watchfaces+ link on the right to get a little user's guide on how to configure this watch without using your phone. But I wouldn't be surprised if you figured out how to change the look of any watch face on your own!


7 Watchfaces

For the digital lifestyle, I've packaged 7 popular digital styles in 1 app. My own Word & Date and 6 others, including Illudere designed by Desmond Brand, Perspective by Jean-Nöel Mattern, and Retro Clock by Ronald van der Lingen. Click on the 7 Watchfaces link on the right to get a user's guide on how to configure this watch without using your phone.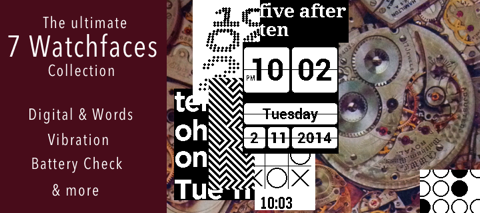 My BART

This is the easiest way to monitor your most frequented San Francisco Bay Area Rapid Transit stations for the arrival of your train. Scroll to the station, pick the direction by holding down the select button for a second. Then a quick tap of the select to request the arrival times of the next few trains. Automatically updates every minute. Your most frequently accessed stations pop to the top of the list. Now available to iOS users.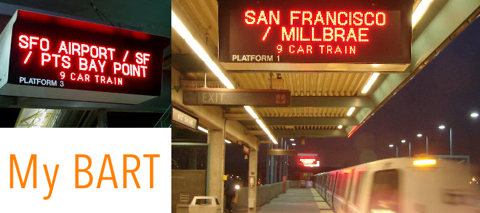 Any Time

Are you a frequent traveler? Do you work in a global company and make calls to other time zones? Are you a pilot, an astronomer, or a ham radio operator? Then Any Time will show you the correct time for anywhere else in the world. With numerous formatting choices available.